Grandmother Kim Hak-sun and I

It has been 22 years since Kim Hak-sun left us and another National Liberation Day is coming soon. Leaving behind the 74 years of life filled with deep sorrow, Kim Hak-sun passed away at the dawn of December 16, 1997 at the age of 74. She probably parted with this world with a sense of resentment with a big sorrow still trapped inside her heart. Would she be resting in peace in heaven, while her lifelong desire to receive an apology from the Japanese government still remains unaccomplished? There is a saying in Korea, that in 10 years of time, the mountains and rivers will be unrecognizable, but the Japanese government has only become worse. It has turned even more conservative than when she was alive. And in the meantime, the 'incident' happened on December 28, 2015. How outraged would she have been had she seen the announcement of the so-called 'comfort women' agreement between the South Korean and Japanese governments? Often, I vividly remember her infuriated face and her clear voice as if it was still ringing in my ears as she said, 'The Japanese government just wants all of us dead.' If she was still alive now, she would be tirelessly appealing to many young people and the citizens regarding the cruel realities of the Japanese military 'comfort women,' in order to elicit an apology from the Japanese government.

Whenever I miss Kim Hak-sun who certainly left us too soon, I often visit the National Mang-Hyang Cemetery in Cheonan. I go there to see Kim Hak-sun who is resting with Hwang Geum-ju. When she was still alive, Kim Hak-sun often said, 'I am lonely because I don't have any family members who will visit my grave after I die.' At the time, we, the bereaved families of the victims of forced mobilization, promised her and told her that "Please don't worry. After you're gone, we'll visit you every year in place of your daughter or son." In order to keep that promise, we, the bereaved families, visit the National Mang-Hyang Cemetery on December 16 every year. Sometimes, Japanese citizens also pay respects to Kim Hak-sun's grave and offer apologetic bows accompanied by tears. This year, I deeply miss Kim Hak-sun more than ever before. I keep thinking about her, as Japan and Japan's high-ranking politicians continue to insult the victims by denying the crimes and forced mobilization committed under Japanese occupation.

In the same way that other people did, I first came to know about Kim Hak-sun through a public broadcast on August 14, 1991. On that day, she disclosed for the first time that she was a Japanese military 'Comfort Woman'. While I was watching the television broadcast, I felt my heart ache, thinking, how excruciating she must have felt keeping this secret all her life. She was about the age of my mother or aunt. I realized, when I grew up, the pain my mother must have felt surviving through the Japanese colonialism and the Korean War. But I was shocked to learn that there were women who suffered even more than my mother did. I heard that my aunt married at a young age in order to avoid being forced into the 'Korean Women's Volunteer Labor Corps'. Like my mother or aunt, any girl who was not married could have been one of them.

In 1991, Kim Hak-sun joined the lawsuit against the Japanese government that the Association for Requesting Compensation for the Pacific War Victims, with which I was affiliated, was preparing. Such an event naturally created an opportunity for me to meet Kim Hak-sun. My first impression about her was she seemed tenacious despite her slight figure. She was reserved and did not easily allow anyone to get close to her. She did not blame anyone and never made anyone run errands for her. She was a person of independence who always took care of herself whenever possible. Those attitudes were perhaps the result of her tumultuous life.
Kim Hak-sun was barely making ends meet at the time, living on rice and 30,000 won in subsidies she received from the local district office, as she was a Social Assistance Recipient under the National Basic Livelihood Security Act, plus the money she earned from employment promotion project. One day, she stumbled upon an atomic bomb survivor Lee Maeng-hee at Dongdaemun Methodist Church. Kim Hak-sun eventually revealed her past when she heard that Lee Maeng-hee had also led a difficult life after suffering from radiation exposure in Japan. Lee Maeng-hee advised her to talk to a women's organization.
From the early 1990s, the so-called officials of the Japanese government kept making absurd remarks insisting that no 'comfort women' had ever existed. Kim Hak-sun became enraged every time she heard such news, as she, clearly one of the 'comfort women', was a living proof.  
Eventually, she decided to reveal her experience to a women's organization. Kim Hak-sun later mentioned that she would not have made that decision if she had a family. That was how Kim Hak-sun's testimony on Japanese military 'comfort women' emerged in the world on August 14, 1991.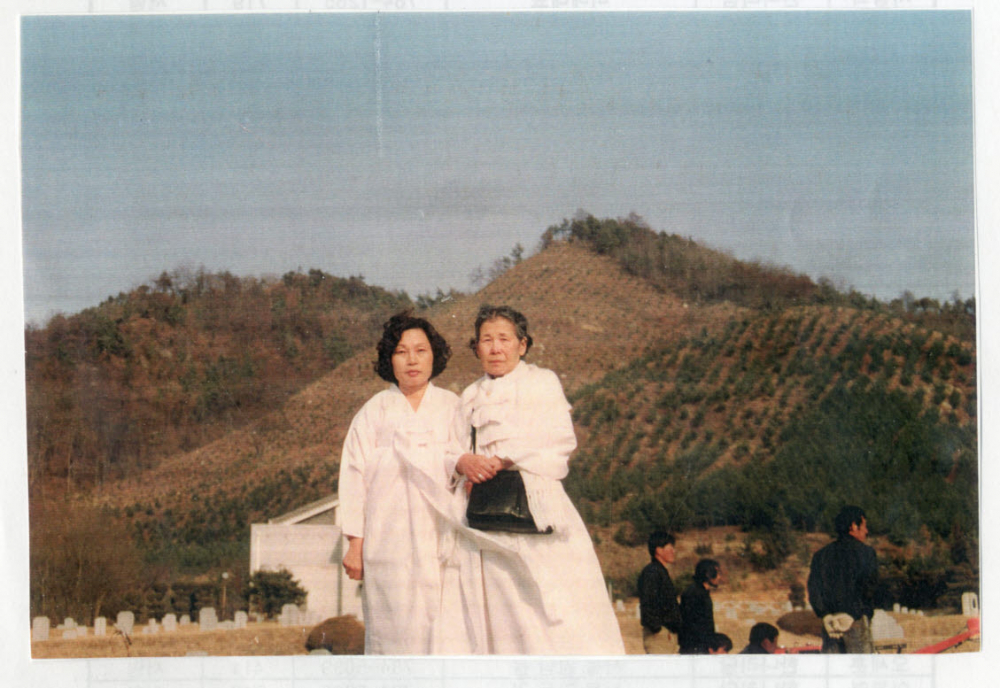 Since 1992, Kim Hak-sun actively engaged in the activities to reveal Japanese wartime atrocities. Emboldened by Kim Hak-sun's courageous action, many surviving victims of 'comfort women' followed suit to expose Japan's war crimes. In June of that year, Kim Hak-sun's courage reached far beyond Korean victims of 'comfort women'. Since the Japanese military had built comfort stations wherever it occupied without exception, the surviving 'comfort women' victims were scattered in various countries including North Korea, China, Taiwan, the Philippines, Singapore, Indonesia (including the Dutch victims), etc., began to come forward to reveal their past as 'comfort women' and raised voices to demand Japan's official apology and legal reparations.

The Japanese society was also shaken up by the testimony of Kim Hak-sun. In academia, scholars began to study the 'comfort women' issue in earnest, while motivated citizens established supporting organizations to help the 'comfort women' victims to file lawsuits and investigate the truth.
As the Japanese military 'comfort women' issue developed into an international issue, the Japanese government could no longer remain idle. In July 1993, the Japanese government sent a delegation of government representatives to South Korea to hear the testimonies from 16 surviving 'comfort women' victims including Kim Hak-sun, for five days.
In August that year, the Japanese government acknowledged in the Kono Statement that the Japanese military 'comfort stations' were installed at the request of the Japanese military authorities and that the Japanese military was involved in the establishment and management of the comfort stations, and transportation of the 'comfort women'. The Japanese government also expressed its 'sincere apology and remorse' for the victims of the Japanese military 'comfort women' and announced that it would review the 'way to communicate' its sincerity.
When Prime Minister Hosokawa visited Gyeongju in November 1993 for the Korea-Japan Summit, the victims of compulsory military service and forced labor and their bereaved families went to Gyeongju to protest in front of the conference hall. Kim Hak-sun also participated in the protest that day along with other surviving victims of 'comfort women'. We did not stop the protest despite the drizzling rain. It was a protest to denounce the Japanese government for merely repeating an insincere apology while continuing to be unwilling to take proper responsibility or make any appropriate reparation.
South Korean 'comfort women' survivors demanded that the Japanese government admit the truth, make an official apology, pay compensations, and clarify the state responsibilities. However, the Japanese government merely reiterated its previous position that all issues related to 'comfort women' were legally resolved already by the 1965 Agreement on the Settlement of Problems concerning Property and Claims and on Economic Cooperation between the Republic of Korea and Japan. The Japanese government affirmed that while it acknowledges the suffering of the victims, the compensation for the surviving 'comfort women' victims will be made through a private organization called the 'Asian Women's Fund'(AWF). It also said it would adhere to the principle of a 'conditional apology', in which the prime minister would send letters of apology only to the victims who received the fund.
The 'comfort women' victims in South Korea were enraged by it. What angered them was that, while Japan purportedly expressing its 'sincere apology and remorse' for inflicting permanent and unforgettable suffering to the 'comfort women' victims, it again attached various conditions designed to protect Japan's pride and honor as a country. Kim Hak-sun stated that "the reason I filed the lawsuit in the Japanese court was to protect the pride of our people", and that "The proposal to raise private funds to make compensations is absolutely unacceptable, as it appears that the Japanese government is reluctantly responding to the demands for reparations only because the victims are begging for money."
The Asian Women's Fund sought to persuade the surviving 'comfort women' victims individually, but most of the surviving victims in South Korea declined to receive the fund, taking it as another insult to them.
Kim Hak-sun continued the legal battle against the Japanese government. In June 1994, she appeared at the Tokyo District Court and, being confronted with the Japanese government, vividly described the atrocities committed by the Japanese imperialism.
Kim Hak-sun condemned the Japanese government stating that "I, a former 'Comfort Woman', am not the one who should be ashamed. It's the Japanese government that should be ashamed, for committing the wrong but is neither admitting it nor apologizing for it." She emphasized that "What matters to me is not money, but the Japanese government's full acknowledgement of the truth and an official apology." Since her court appearance, she had given testimonies at various events and demonstrated with the victims and the bereaved families in front of the National Diet of Japan.
Afterwards, Kim Hak-sun continued her activities by participating in the lawsuit against Japan travelling back and forth between South Korea and Japan, testifying at various rallies, and giving interviews to domestic and foreign media.
Whenever she received invitations from various places, she never declined and attended all of them. She was usually paid an honorarium of 200,000~300,000 won for each testimony, and she often filled envelopes with 50,000 won each and gave it to other surviving 'comfort women' victims.
If someone gave her a little bit of money, she did not keep it all to herself but instead used it to share meals with other victims.
In particular, she frequently met with Hwang Geum-ju, Kim Sang-hee, and Kang Soon-ae among others. Her most cherished friend was Kang Duk-kyung who was living in the House of Sharing.
Kang Duk-kyung wanted Kim Hak-sun to move in to the House of Sharing. Kim Hak-sun wanted to, but decided against it because of her friends in Seoul and Dongdaemun Methodist Church, and because of religious reasons, and so on.
Another reason that prevented her from moving to the House of Sharing was her uncomfortable feelings about leading a communal life with other surviving 'comfort women' victims, and her desire to avoid constantly recalling her painful past. Kang Duk-kyung passed away in February 1997.
The last time they saw each other was when Kim Hak-sun, laden with her own ailing body, visited Kang Duk-kyung in the intensive care unit to see her.
Kim Hak-sun cried a lot and agonized over the loss. Her chronic illness was aggravated after returning from the funeral. She became seriously ill and went back and forth between Ewha Womans University Dongdaemun Hospital and Mokdong Hospital. She passed away that year.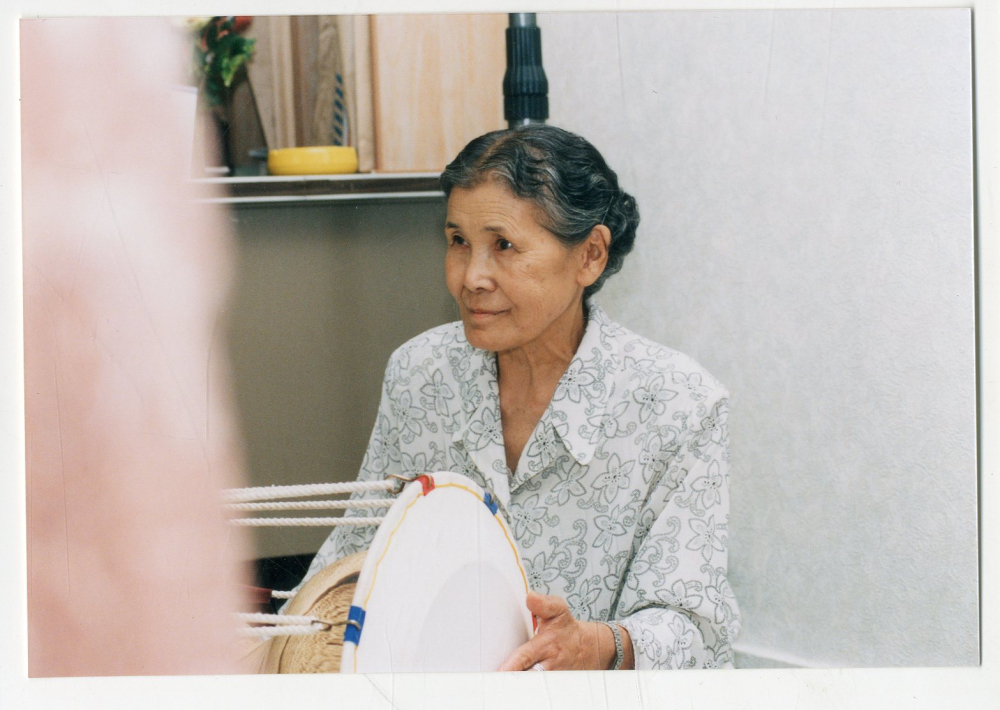 Kim Hak-sun always fought with confidence, always choosing the path never travelled. Her path must have been definitely frightening and tough, but she calmly walked on it as if it was meant to be her fate. I learned a lot by simply being beside her and observing her. By watching her struggles, I came to understand how to live and fight as one of the bereaved families of the forced labor victims.
The fight has been going on for 30 years, but it still has a long way to go. In December 2015, South Korean Park Geun-hye administration and Japanese Abe administration announced that the two countries had reached an agreement on the 'comfort women' issue.
It was an evasive and devious agreement that ignored the opinions of the surviving 'comfort women' victims.
Kim Hak-sun used to say, 'The Japanese government arduously tries to cover up the truth by frequently making absurd remarks, but the truth cannot be concealed.' How would she have felt had she been still alive and witnessed the 2015 South Korea-Japan Agreement on 'comfort women'?
Despite all the progresses the world has been making, the senselessness of it instantly drags us back to the past. However, we know that the small ripple Kim Hak-sun created in August 1991 led to countless changes in this incurable world. The truth is eternally powerful. It is our only weapon to drive changes in the world.
Writer Lee Hee-ja

1944년 군속 동원으로 아버지를 잃은 강제동원 유족으로 1989년부터 아버지의 기록을 찾기 위해 유족회 활동을 시작했고, 일본군'위안부' 피해자 할머니들과 함께 일본 정부를 상대로 재판투쟁을 이어왔다. 2001년 태평양전쟁피해자보상추진협의회를 창립, 강제동원 생존피해자, 유족들과 함께 강제동원진상규명특별법 제정 운동, 야스쿠니반대국제공동행동 등 일제 식민지배와 침략전쟁으로 인한 피해 진상규명과 권리회복을 위해 힘쓰고 있다.